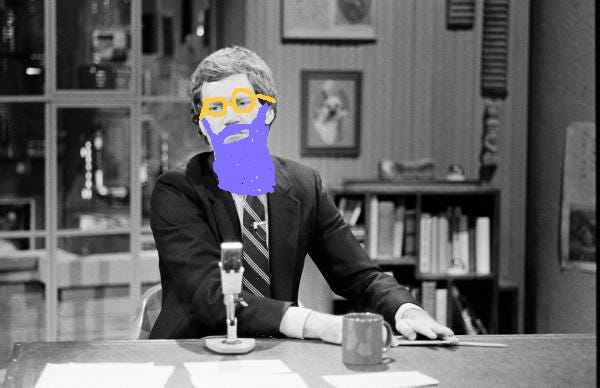 This week I was going to write about my habit of comparing my son to Kylie Jenner's daughter, Stormi, but then my boyfriend, Diogo, said something like, "Make sure it's really funny, or else it will be awkward", which made me feel so self-conscious that I decided to bury that idea. "I didn't mean to say it like that", he told me sincerely, when he saw me go pale. "I just think maybe you need to think about who your audience is." To which I responded, "I really hope 'my audience' knows who Stormi is."
I love my BF, but popular culture isn't his strong suit. He used to refer to Kanye West as "Kenny West", until we met and I urgently corrected him. Actually, I thought it was quite charming how Diogo mispronounced the name of literally the most famous man on earth.
Anyways. I decided to share my thoughts on a couple of subjects instead.
David Letterman: what's his deal?
OK, so I know that I'm definitely not the first one to think and write about this, but how annoying is David Letterman in his Netflix show, My Next Guest Needs No Introduction? All the compliments, the sucking up to his guests, the seriousness, the selfies, the dancing — it's creepy and I don't buy it.
After watching his latest episode with Kim Kardashian, I decided to find out if he's always been such a lame host? I obviously knew about him, his show, his Late Night rivalry, but for some reason I hadn't really properly watched any of his interviews.
The thing is, Letterman had once been known for his nonchalance towards fame: "He didn't just mock the obsession with celebrities; he teased them to their face displaying studious indifference to the projects they were promoting and a smirking skepticism to their hints of pretentiousness, self-importance or eccentricity."
In an interview with Cher, for example, Letterman gives her a couple of compliments and then asks her, "That didn't seem like I was kissing up to you there did it? People are used to seeing that crap on TV."
I also watched all of Letterman's interviews with cult director Harmony Korine, who was obviously very high in all of them. They're really funny. At one point Letterman says to him, ironically, "Thanks for fixing yourself up for the show. What's going on? Is everything alright? You look like something has happened."
So what happened to Letterman? How did he go from insulting his guests to kissing their asses, and why is acting like a sensitive, goofy old man who got lost in the forest for a while, was found, came back to society and is still trying to figure out how to use his phone?
"I hurt a lot of people. … I'm not looking to blame anybody. I'm looking to find out why I behaved the way I behaved," he told Oprah in 2013.
I guess he's trying to redeem himself after having done weird things like having affairs with multiple women in his office, which he admitted to live on his show after having been blackmailed and forced to come clean. The audience reacted to his confession by laughing and clapping, and the case was closed. No more questions asked. I know what you're thinking: WTF?
If David Letterman's sex scandal had happened recently instead of 2009, I think it's safe to say he would have been cancelled, pronto.
Speaking of being cancelled..
The end of (Man) Repeller 👋🏼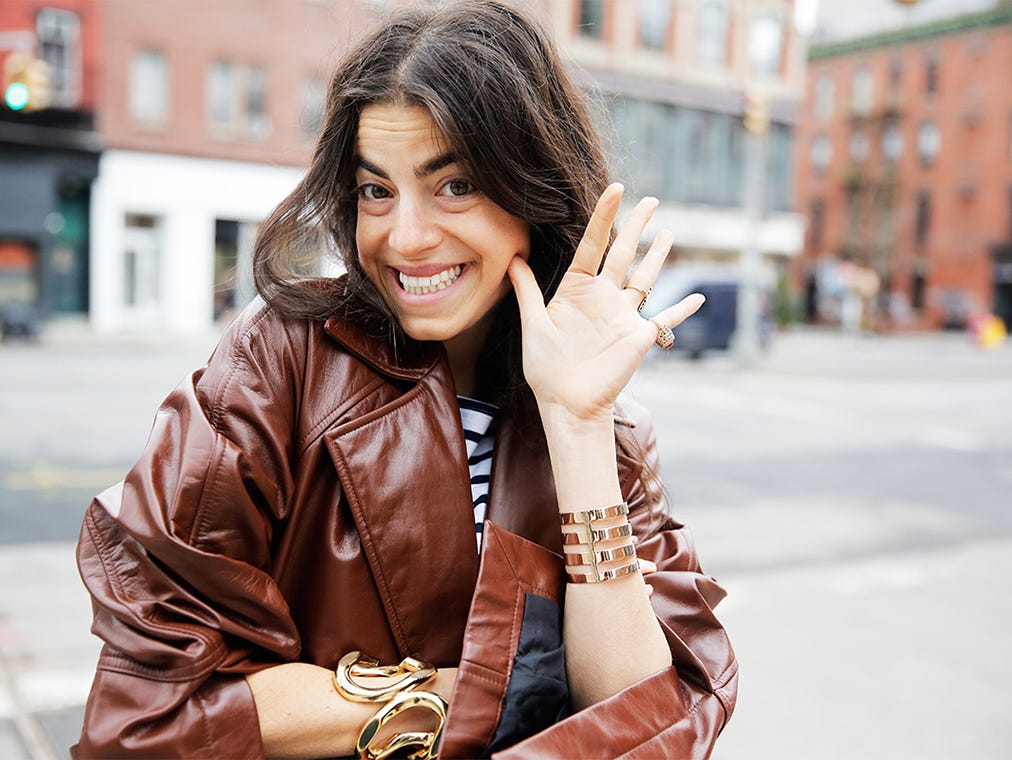 The closing of Leandra Medine's fashion site (Man) Repeller is a perfect case study for today's unforgiving Cancel Culture. The publication's downfall seems to have taken off when they posted a fluffy open letter in reaction to the BLM movement, in which they pledged to hold themselves accountable "to each other and our community" — people did not respond well (I read all 294 comments).
One reader commented:
"Considering we are in a time of unprecedented instability - meaning not being able to pay rent, struggling to file for unemployment, and oh yeah- getting murdered by the police... MR deciding to jarringly shift gears and chime in on an extremely painful, personal topic doesn't feel right. It's not hard to get the feeling that this was motivated by the idea that it's the "right thing to do" and as a convenient side effect, reap the benefits of appearing "woke."
But others also argued that Repeller was always meant to simply offer an escape, a form of entertainment:
"I worry we are shutting down our expression and uniqueness by requiring that a rich white girl in NYC who started a fashion blog must now become a fully socially and politically empowered source of information & advocacy for society. Where is the line between creativity and unique voices, and requiring us to all be the same (which is exactly the problem we're trying to fight against in the first place)."
I think anyone should be able to run a privileged, aspirational, fashion platform if they want to, and Repeller was a great one. But mistreating POC staff and firing them during a pandemic, like the publication was accused of, overshadows everything else.

It's true that have become a more judgmental society, and the bar is set higher than ever. On the one hand this has provoked us to create positive, meaningful changes — but on the other hand, I wonder if we have become too judgmental, and for the wrong reasons. Has it all just become a witch hunt? It sometimes feels like we're all calling out people just for the sake of calling out.
So, it would have been very hard for Repeller and Leandra Medine to rise above their mistakes amidst the current zeitgeist, even though they did try for a while. I'm sure there will be tons of "Rise and Fall" articles coming soon, and I will read them all.
Heidi Klum says it best — One day you're in, the next day you're out.
Lastly, here are some other things I'd like to cancel.
— People who don't like dogs.
— People holding hands whilst biking.
— Flared leggings.
— Flip flops.
— Clipping nails anywhere besides the bathroom
— Celery
Thanks for reading, and until next time 🌹