My dog hates my kid
oh and welcome!
Hello, welcome to mymoodisthis by yours truly, Isabel van Zeller.
Thanks for signing up. Every week, I plan to share with you anything that has crossed my mind recently, while I was walking my dog or taking my kid to daycare, or while I was on my way to yoga class at 6.30am because that's the kind of person I'm trying to become.
I recently wrote a story about my dog and how she hates my child. I'll share it with you below to kick things off. My dog is called Ginja and she's a Cardigan Welsh Corgi — not to be confused with a Pembroke Welsh Corgi. The most obvious difference is the colour of their fur, of course. But after I got Ginja, I soon found out that another huge difference is that Pembrokes are incredibly friendly and the Cardigans are absolute cunts*.

Ready? Here goes.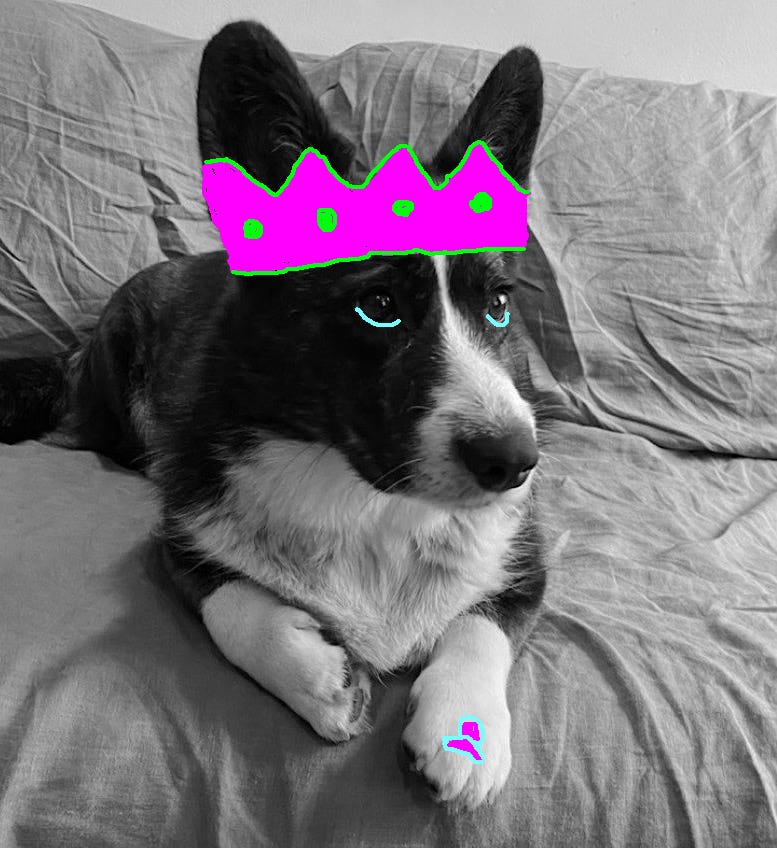 My dog hates my baby.
I'm not surprised, she's a bitch. A top pedigree bitch, that is.
My Cardigan corgi, Ginja, has disliked my son, Gaspar, ever since she laid eyes on him. Her reaction made this very clear: she sniffed his head and immediately let out one very loud, disapproving bark. He didn't even flinch.
Before Gaspar was born, I would imagine Ginja crawling into his crib to kiss him, like those videos you see on Youtube: a little newborn baby sleeping with a cute dog laying on its head, both looking perfectly peaceful. How delightful! That's the kind of family we'd be, I thought. Instead, she wanted nothing to do with him.
Like most people, I was convinced all corgis were the friendliest, cuddliest, most adorable creatures on earth. But Ginja is loud, rude, sassy — a diva. According to my boyfriend, we are very much alike, big bum included. I'm not sure he means it as a compliment, but I take it as such.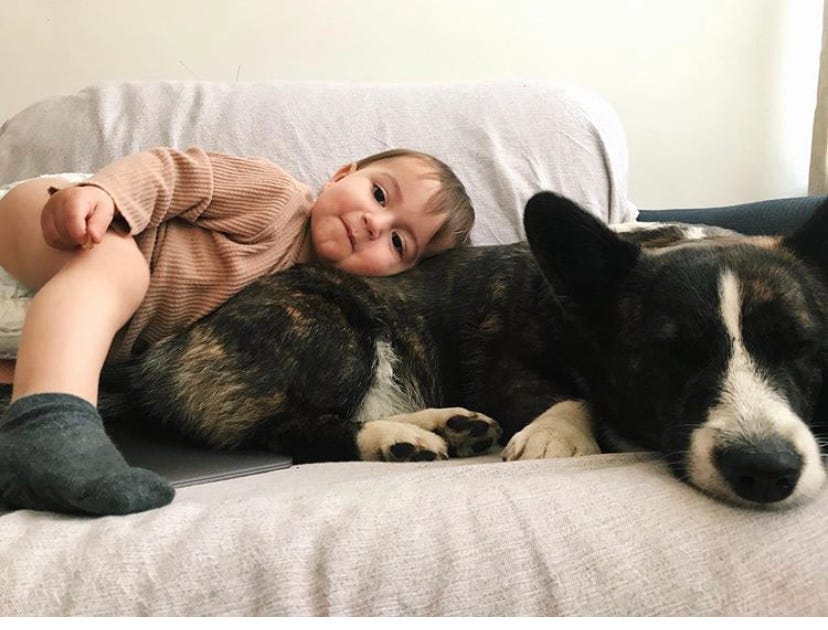 When we're out, people approach us all the time. Everyone wants to pet a corgi, wouldn't you? We try to warn them, but it's always too late — they've already knelt down to touch her, she's already protesting by howling ferociously. No one ever expects this reaction from a dog that looks like a toy. I imagine it to be confusing, heartbreaking even. Like when you meet your idol and it turns out they're an idiot.

We apologise and say she's protecting our son. "Of course, how lovely!" everyone replies. Obviously that's not true, Ginja couldn't care less. The real reason is: she's a grumpy cow.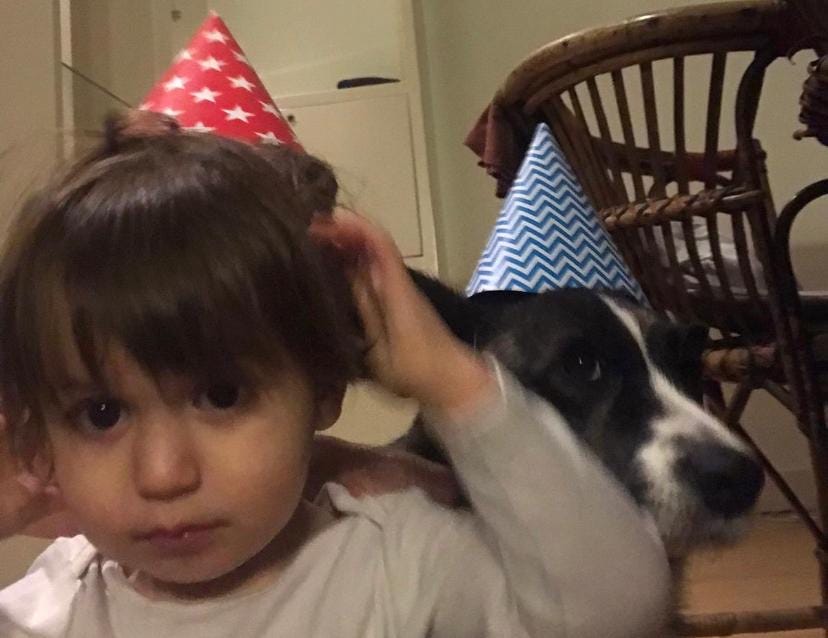 Honestly, I can understand why my dog can't stand my son. He took her spotlight, her place on the couch and our laps. The park, her sanctuary, is no longer dedicated to her enjoyment. Sure, we still throw her the ball, but not with the same determination as before. The main activity now is staring at ducks, jumping in puddles and running after pigeons (this used to be her thing too).
Gaspar is now two and sings her songs, plays with her ears and tells her goodnight. Ginja has accepted that he's not going anywhere, so makes the most out of the situation by eating his food and destroying all of his favourite toys.
But there are times, when they're both sitting on the couch watching a movie and Ginja thinks no one is looking, she'll let him lay his head on top of her long, chunky body, as if she were his pillow. That's the funny thing — she would never show it, but we know that deep, deep, deep down, Ginja loves Gaspar too.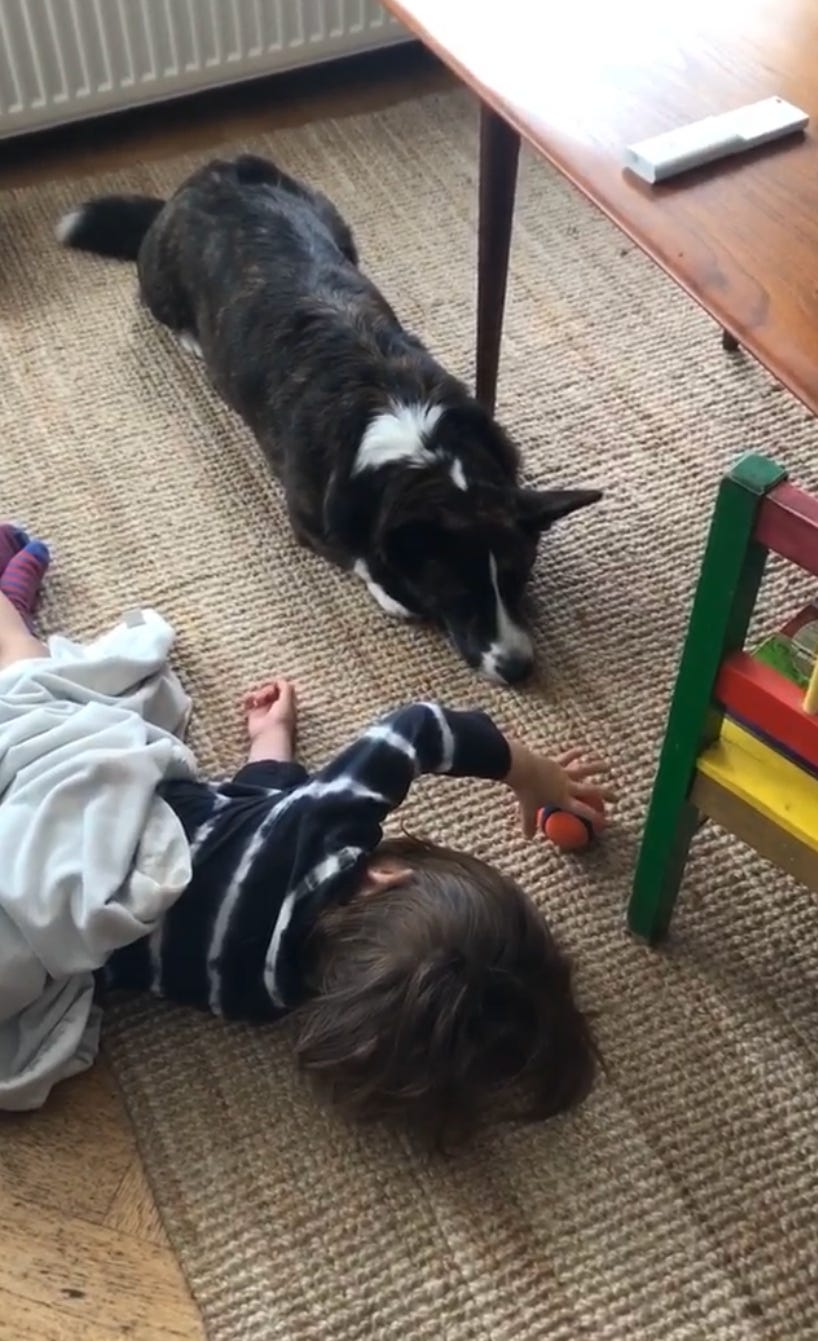 Note: I apologise for using the female word *cunt* as an insult, but nothing fit as perfectly.
That's it for today! 'Til next week 🐩

Thanks for reading and take care.

@mymoodisthis